Posted by Rick Northover on February 14 2014 (Roof Insulation, Roof Renovation, Roofing)
The winds that are currently blasting the UK are causing damage to property all over the country. I remember in the storms of 1997 we were contracted to apply our spray foam system to the underside of the roofs of ten properties. We sprayed nine of them but one was not ready so we had to do that one at a later date. In the interim the storm force winds hit, all of the houses that we had sprayed with spray foam were in perfect shape with no damage to the roofs. However the one we had yet to treat was quite badly damaged and part of the roof had lifted.
Sprayseal sprayed foam system really does bond and protect against storm force winds. So why not call us or fill in the form to find out how you can protect your home against roof damage.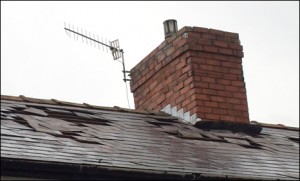 Request A Free Quote Today
Fill out the form below to request a quote and get your free energy guide
---
« Ideal Home Show 4 Weeks To Go | Sprayseal