Posted by Rick Northover on December 19 2013 (Insulation)
Spray insulation is a fantastically reliable product which helps boost the energy efficiency of your premises. When applied properly, foam spray insulation provides an airtight barrier in the space it has been applied to considerably reducing heat loss. Spray polyurethane foam comes in either open-cell or closed-cell. It has become increasingly popular as an insulation solution in existing homes / buildings and is being used in newer, more environmentally friendly homes.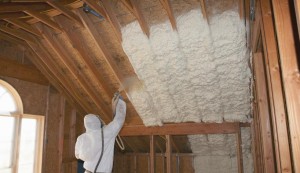 This type of insulation is one of the most eco-friendly solutions available when it comes to insulating buildings. Unlike the products made from petroleum derivatives and is made from renewable agricultural by-products. It is applied using water only which means you are not interfering with the ozone layer at all. It produces literally zero toxic vapours so whether it's a house or a workplace, you know that your friends, family and colleagues are completely safe.
A huge benefit of applying this insulation is the effect it will have on your heating costs. The foam literally fills holes in the structure of the surface it is applied to, therefore no heat is wasted and your heating or cooling systems will not have to work as hard. This is not just a small benefit; it has proved to lower the percentage of energy bills by 40-60%.
Spray foam is fire resistant, waterproof and in a damp atmosphere mould cannot grow on it. The foam itself allows the materials around it to be naturally effected by atmospheric conditions without actually being effected itself and actually increases the value of the building it's applied to.
So if you're looking for insulation keeping in mind the environment, efficiency and costs then spray foam insulation is the perfect choice. It will keep your home cool in the summer and warm in the winter.
Not many people are fully aware of the fact that living in a house with the infiltration of moisture or mould can lead to sickness and even diseases which everyone would prefer to avoid when it comes to their family and friends.
Request A Free Quote Today
Fill out the form below to request a quote and get your free energy guide
---