Posted by Rick Northover on December 22 2014 (energy efficiency, Energy Saving, Home Insulation, Insulation, Roof Insulation, Roofing, Weatherproofing)
If you live in a house or building with a flat roof and are thinking of having the roof insulated, you have a couple of options. With flat roof insulation, you need to think about cost and efficiency. Insulation is absolutely essential when you want to keep your property dry, warm and mould free. And if you can do that whilst saving money on heating or cooling bills, therefore becoming more eco-friendly, then why not?
One option is the LRS Liquid Rubber Roof System. It has been around for over 20 years and proven extremely successful in America where the temperatures are much more extreme than in the UK. Liquid Rubber provides a seamless waterproof membrane which can be applied with a brush and roller. And of course it meets the requirements of the environmental and health and safety requirements in the industrial and commercial roofing industry.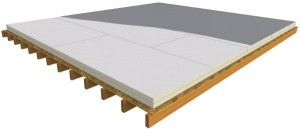 For the larger jobs, Liquid Rubber's 'instant set' system can be used to cover up to 1000 square metres in a day and is instantly waterproof. As it sets it forms a fully bonded membrane with no seams providing 100% elasticity and a 95% memory allowing movement without damage.
Another option when having your roof insulated is the FireStone Rubberguard EPDM roofing system. 1980 was the first time it was installed and since then, Firestone Building Products has produced and installed over 1,000,000,000 m2 of Firestone Rubberguard EPDM worldwide.
It is used in extreme weather conditions from the heat of the Arabian Gulf to the Alaskan snow and has made Firestone Building Products a leading manufacturer of EPDM rubber membranes around the globe. Firestone EPDM Roofing Systems overpower the single-ply roofing market through their performance, durability and flexibility.
The Rubber Membrane is designed for installation and commercial, industrial and residential flat and low scope roofing applications and can also be combined with extensive green roof and/or solar PV installations.
Request A Free Quote Today
Fill out the form below to request a quote and get your free energy guide
---
« NASA Uses Spray Polyurethane Foam Insulation